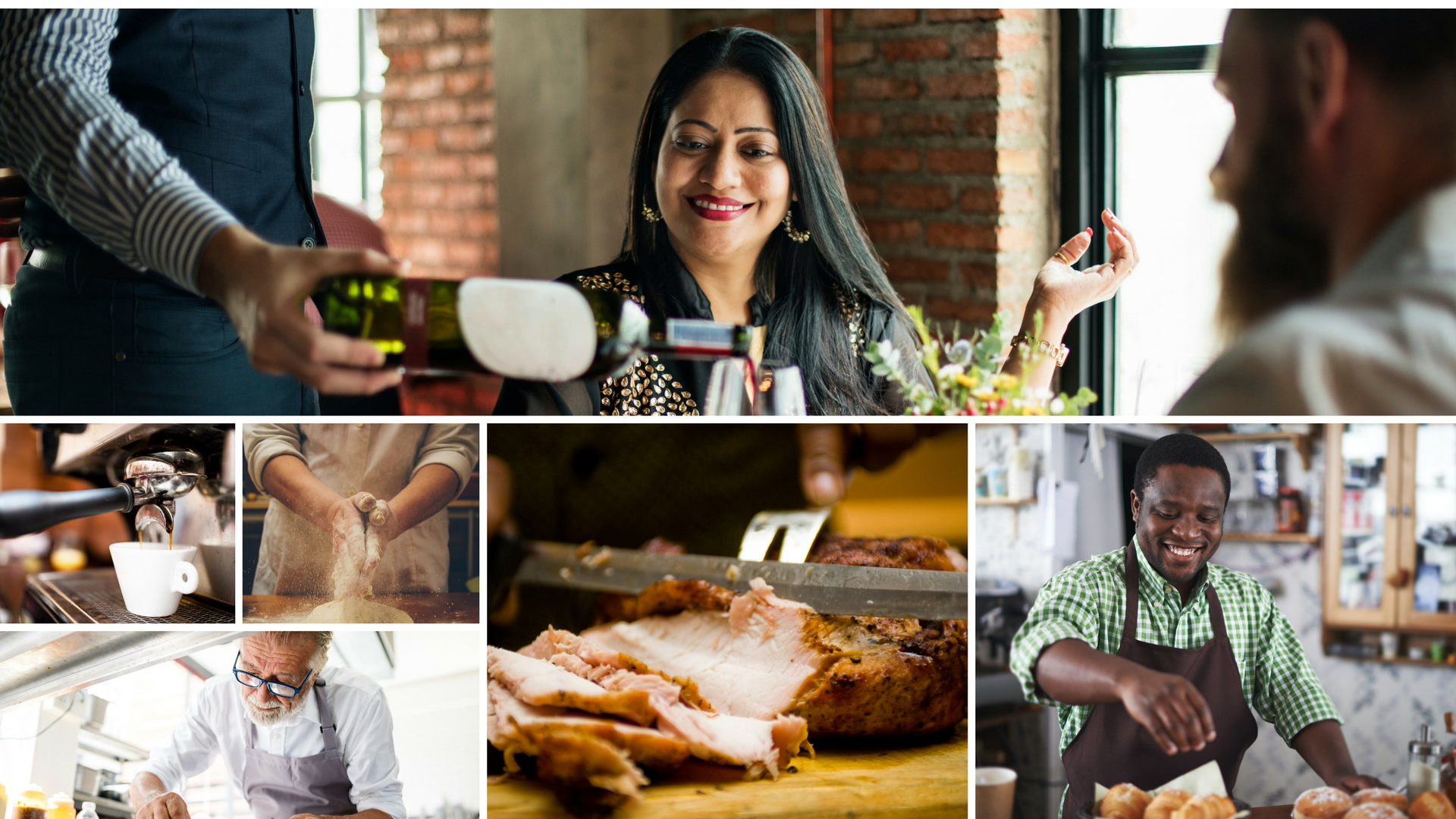 Every restaurateur, owner, manager, chef, staff member, needs this course as part of their training. Every restaurant, diner, deli, kiosk, food cart, bistro, booth, food truck and pop-up needs this course.



Your Fate is decided in 15 seconds or Less:

I think we all agree that online reviews have the most impact on Restaurants. Some industries will see a couple reviews a week, or a month. In the restaurant industry, a restaurant owner could experience dozens per day, hundreds a week.
When it comes down to it, you have about 15 seconds to impress a potential guest online. Reviews are the first place your guests will check. Poor reviews can have a lasting affect on your restaurant if they aren't controlled. With the sheer volume of reviews coming in, having a negative one here and there, can have a serious impact on your restaurant.
This Problem is Serious:
Like never before, restaurants are under attack. Sound too dramatic? What about fake reviews, minimum wage issues, high overheads, staff shortages, food preparation and supply management. The list goes on and on.
Even their guests seem to be out to get them sometimes. Restaurant owners deserve a break. Some restaurant owners know how to manage and market their online reputation well, but most don't. What are your options? Hire a firm, or their neighbor's kid, or do it themselves.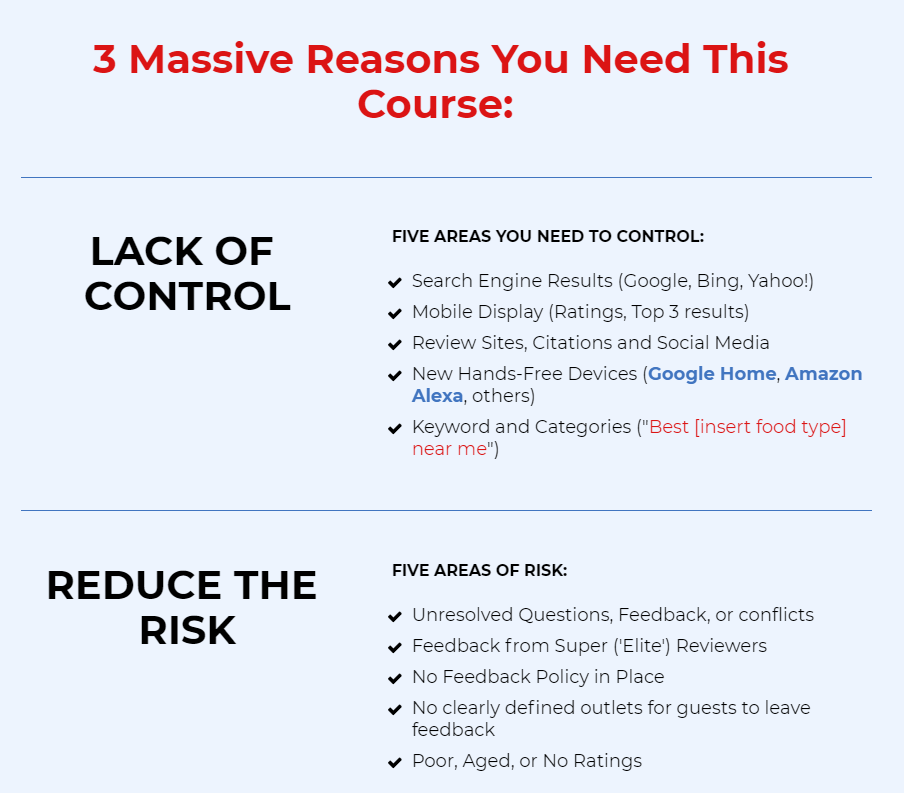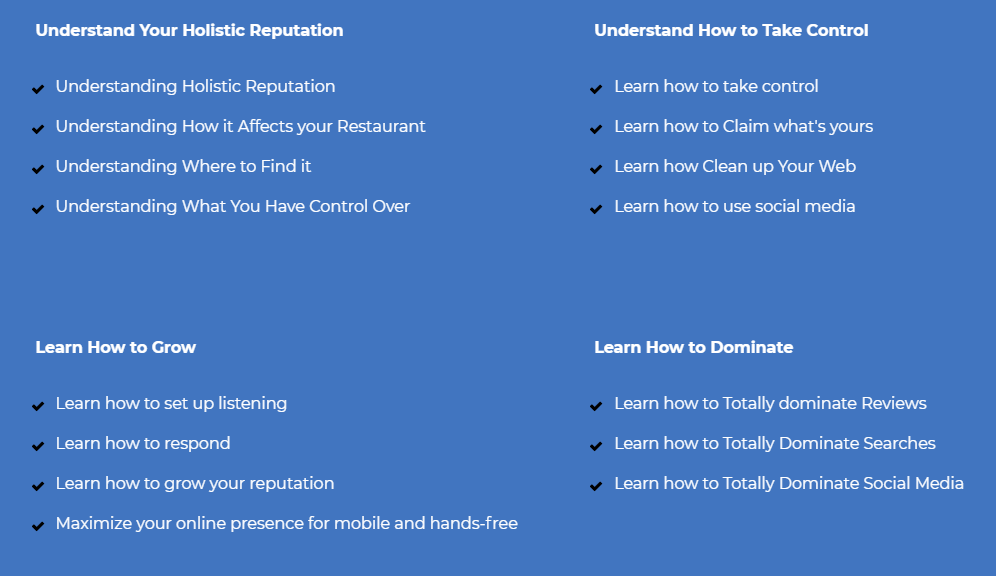 You Need a System!
Where do restaurant owners start? Who can they turn to? Where can they get real, hands-on training on how to take control of their online reputation? Well, we have heard their concerns. This course was designed for you, and if you will let me I would like to give you what I personally believe is pure gold:
● I will show you were to find your reputation and what it really means (it's way beyond Yelp™ and TripAdvisor™)
● I will show you how your current reputation is affecting your restaurant. This could really open your eyes
● I will show you how to create the pieces you will need to create a system
● I will show you how to take control and put most of this system on auto-pilot
● I include sections on Negative reviews, New Restaurant success and how to survive a very bad reputation
● I will show you how to respond negative and positive feedback in a way that it actually builds your restaurant
● And I will show you how to start dominating your online space with Holistic Reputation
This Course Provides Answers
● This course answers the 5 major problems that restaurants face in relation to reputation, and answer the 10 major questions that most restaurant owners consistently ask.
● This course can replace your need for a reputation marketing company, saving you a lot of money. Or it can keep you in the driver's seat so you can effectively manage the firm you hire with confidence. You will know this stuff. You just might surprise the firm you hire.
● And finally, this course will improve how you are perceived in the community, your visibility and credibility online, and help you to improve your guest experience.
● This course offers all that? Yes, it does. And, on top of that, I offer my support. There is built-in support and a Facebook™ Group to help you as a community.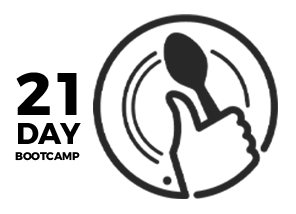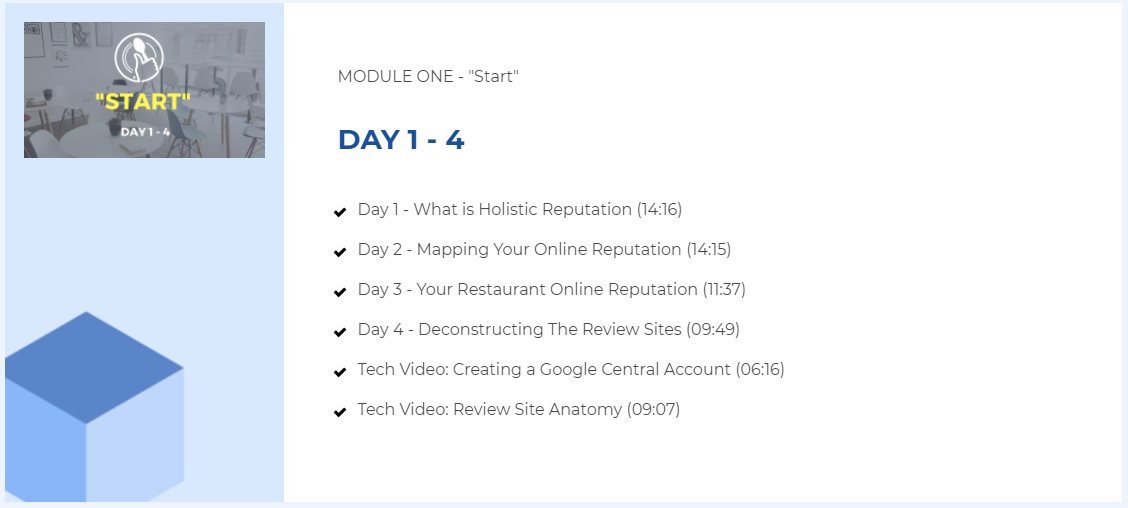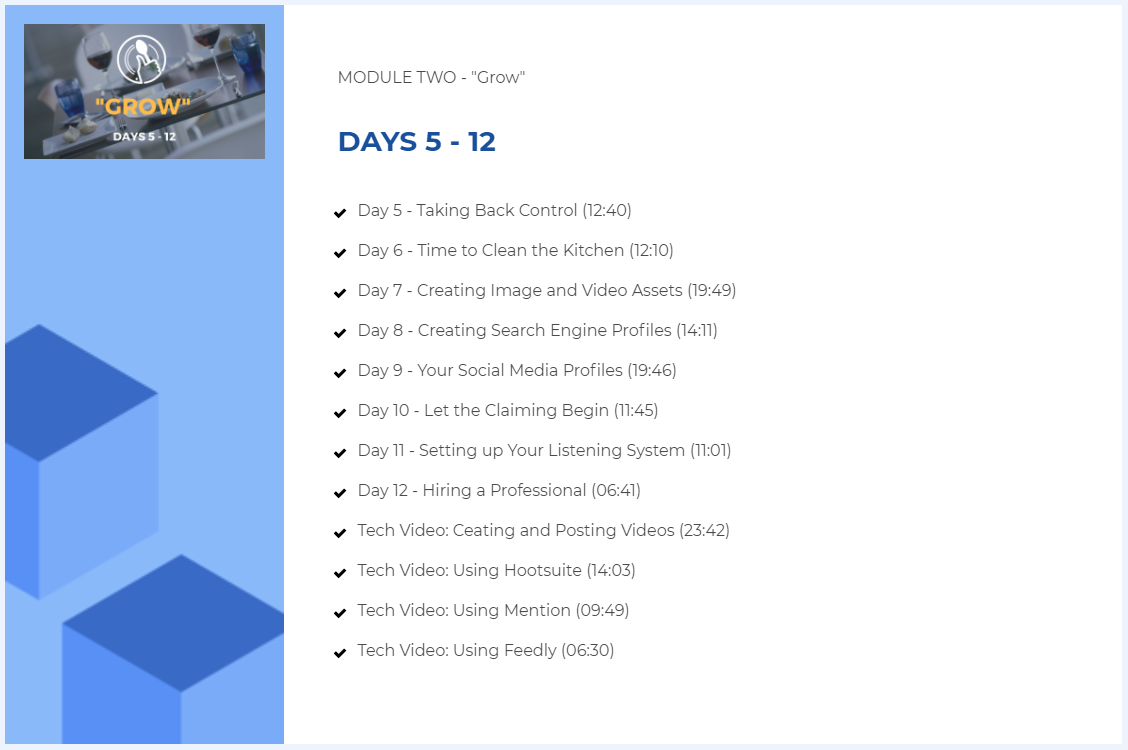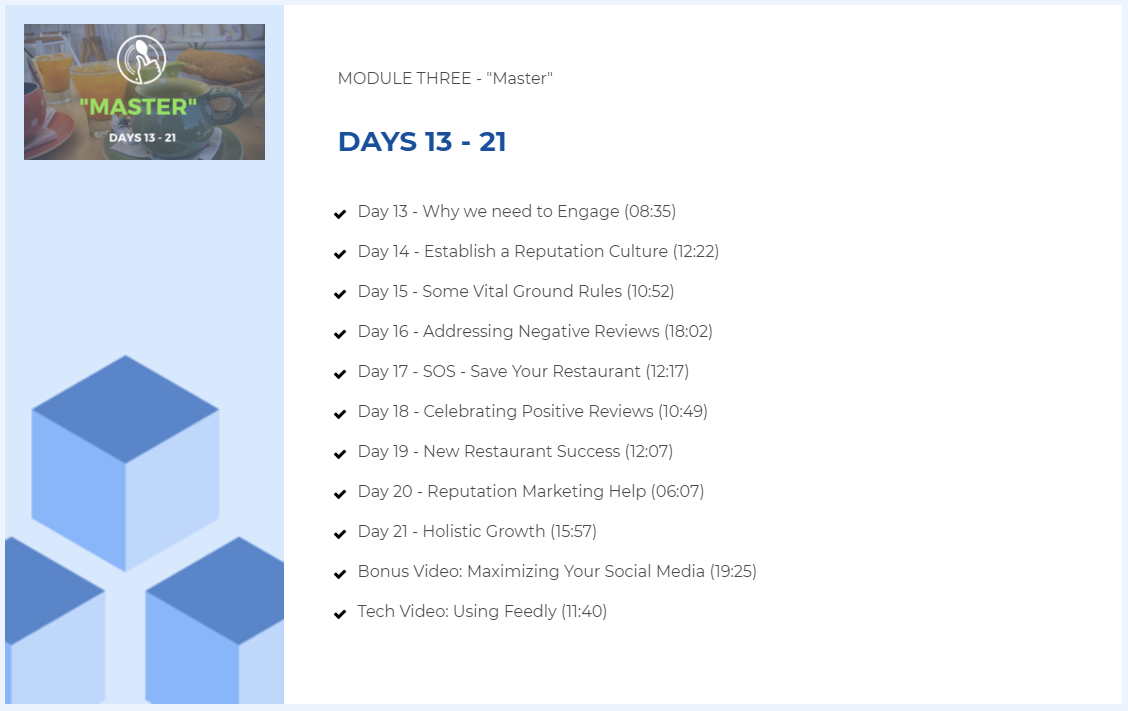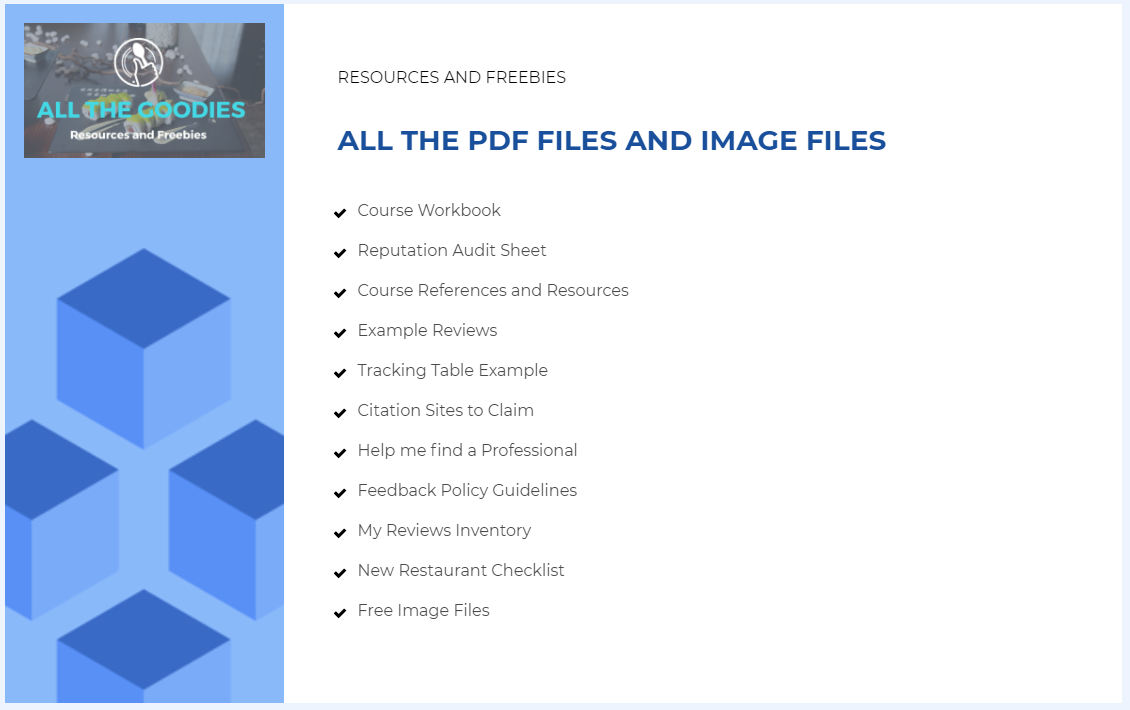 ---