Opening Soon, Grand Opening, Restaurant Re-Launch?


What is this Course About?
We offer our full master course on Restaurant Reputation, but we also recognize that new restaurants may not have the time to go through a full course. So we have created this mini course to help you to quickly and effectively step through the essential aspects of building a powerful, holistic reputation while you are launching your restaurant.
The process of opening a restaurant and managing your online reputation go hand in hand, and if done correctly, these actions will help build your restaurant, and create a powerful, positive, long lasting online reputation and brand.
Why is it important?
The last thing a new chef or restaurant owner wants is to be plagued with negative online reviews or bad press before they even get off the ground. These 5 critical steps help the restaurant team prepare over a six month period for their success. It's designed to be consumed in one sitting.
What is covered?
This mini course discusses the 5 critical steps, or phases, of a restaurant start-up, from a digital perspective. From Development Stage through Post-Opening and finally into Holistic Growth, we discuss the strategies and reasons for each stage:

It also covers the use of Hashtags and how to maximize your social media accounts to build your initial fan base and create a solid reputation.
Assumptions and Prerequisites?

• We assume you have your social media and review site accounts set up
• We assume you have a website, and have taken the time to set up your Google business account
• You have some search engine expertise
Note
: this is a mini course, designed to give new restaurants a springboard into managing their own online reputation. It does not cover setting up a Google central account, creating social media and review site accounts, monitoring and listening systems, how to respond to negative reviews, how to celebrate positive reviews or dominate online. If you are looking for this level of instruction, you can check out our flagship restaurant course called:
The 21 Day Online Restaurant Reputation Bootcamp
.
This course packs a lot into it for only $17. If implemented, it could save you thousands of dollars or even save your business. Start managing your online reputation immediately with this mini-course.

I understand if you are not sure about the course yet. It's more important to me that you are informed. So look over some of the other courses I offer, maybe they are the size or price range you are looking for.
And don't forget to sign up for the Essential Restaurant Reputation Blueprint guide: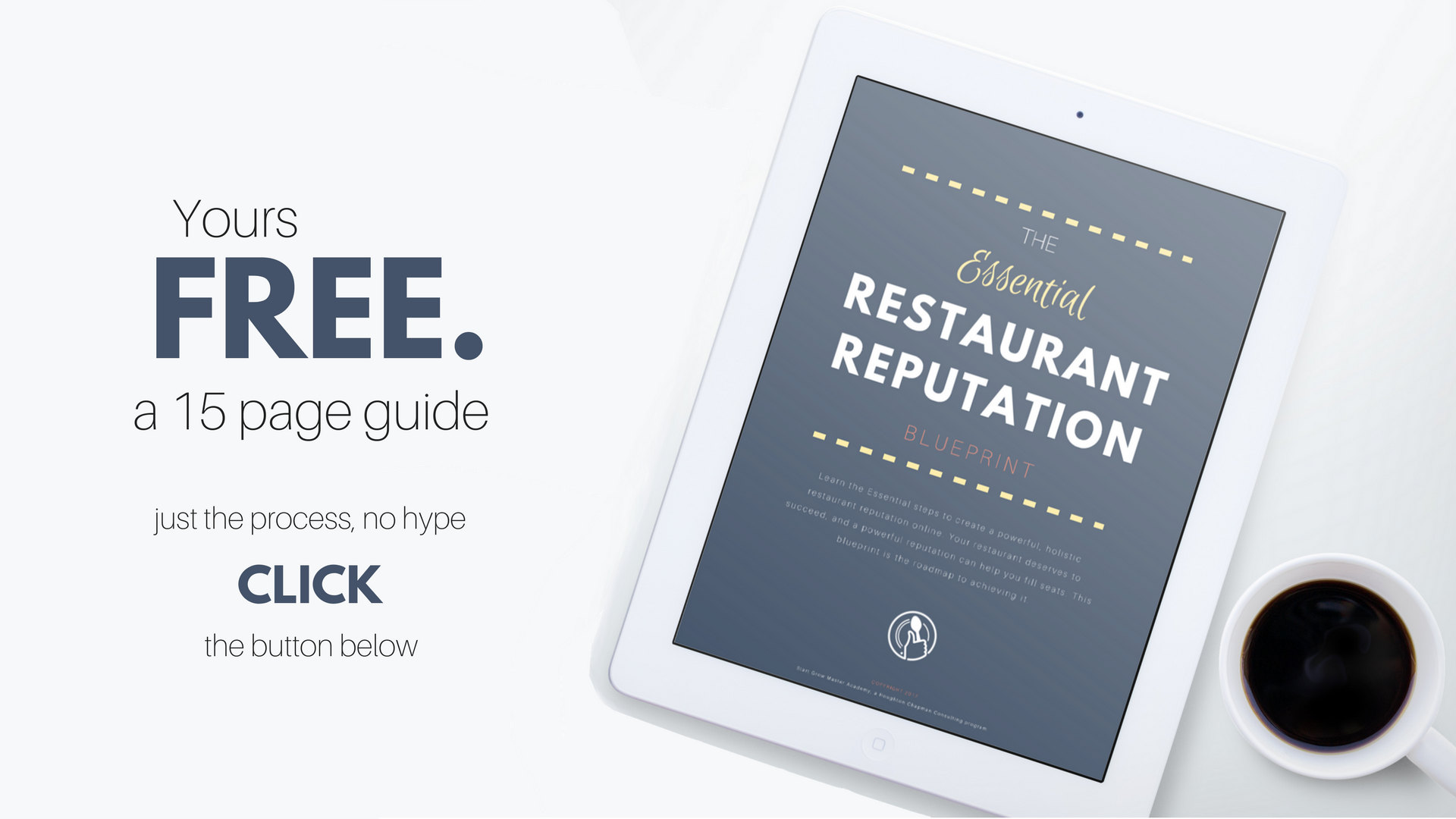 ---